3 Reasons to Remodel the Kitchen in your Old Home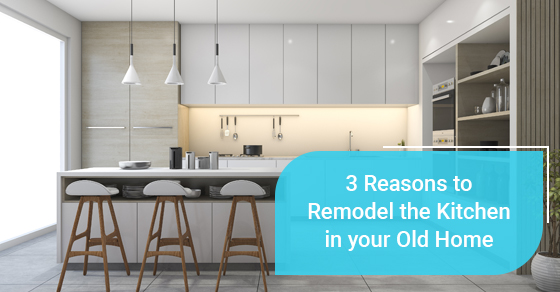 The kitchen is the heart of the home, which is probably why it's the most popular room for any home improvement project. From changing the countertops and backsplashes to creating a more open layout, there are many kitchen things you can do to update your kitchen. Some homeowners are willing to spend as much as $100,000 on a kitchen remodelling project to positively change their lifestyle and increase the value of their property.
Here are some reasons to remodel your kitchen:
1. Energy and water savings
If your refrigerator has served you for a few decades and you like the retro feel it gives your home, you are probably paying too much for it. Old electrical appliances such as refrigerators, ovens, dishwashers, stoves, and microwaves are very expensive to run.
Any appliances that you've had for more than 25 years and are not stamped with the EPA's Energy Star seal, which means that they consume a lot of electricity to run. Plus, if they break, the cost of repair can be very high, as replacement parts are difficult to find. Renovating your vintage kitchen with modern, ecologically-friendly materials can result in huge energy and water savings.
2. Make your kitchen more functional
There are many innovations that you can take advantage of to make your kitchen more functional. Kitchens in old homes tend to be smaller and inconvenient, with awkward configurations that restrict access to some areas when multitasking, cabinet doors that won't stay closed, or very little countertop space.
In addition, kitchen materials deteriorate over time and need repair or replacement, such as broken tiles, missing cabinet doors, or scratched and chipped Formica countertops. If you're unsatisfied with the ancient paintwork, you should also consider remodelling your kitchen so it looks more contemporary.
3. Upgrade to fit your lifestyle
If your needs have changed, perhaps because your family is growing, or you're now living with an elderly parent or disabled family member, then it may be necessary to remodel the kitchen to make it more usable. For instance, you could change the layout to include a breakfast bar where your family can gather to enjoy some tea or grab a quick meal instead of using the dining table. Alternatively, if you have purchased the home from a large family, but prefer a gourmet kitchen for entertaining your friends, then you need to remodel the kitchen to fit your current lifestyle.
A Fresh Look That Increases the Value of Your Home
Whether you're looking to remodel your kitchen to encourage more family time by making the space inviting for home cooking, to make it more entertaining as the centre of your home parties, or to upgrade it simply because you can't stand your deteriorated and obsolete kitchen, the end result will likely boost your home's resale value.
Depending on your investment in the project, you could enjoy up to 90% return on investment when you decide to sell your home. And if you're looking to sell your home, a kitchen renovation will help it sell faster than a similar home with an old kitchen.
For more ideas on remodelling your kitchen, call Avonlea Renovations at (416) 907-7891 or contact us here.
Leave a Comment
The comments are closed.