5 Ideas That Will Give Your Kitchen Cabinets Character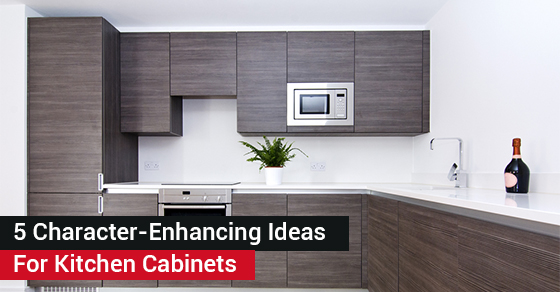 The kitchen is the room many families use to gather for meals and for chats with friends, so giving it a new look from time-to-time is a good idea. One of the ways to give your kitchen a new lease on life is by revamping the cabinets. Here are some tricks you might want to incorporate into your kitchen interior design plans the next time you want to give your kitchen some freshening up.
Wallpaper the Doors

Instead of painting, try wallpapering. With the designs on the market today, you're apt to find something that fits into your decorating scheme. Wallpaper comes in all patterns and colours, and refacing your cabinet doors with a classy design will add a whole new dimension to your kitchen. After you've applied the wallpaper, be sure to seal it with a clear sealant like decoupage.

Paint Adds Panache

Simply painting your kitchen cabinets with a melamine paint will do wonders. This paint is made to last and goes on easily. It also comes in a variety of terrific colours, so you can be as sedate or as daring as you wish.

Let Some of the Old Shine Through

If you're painting your wood cabinets, here's a novel idea: let some of the old wood shine through! Trace a design on contact paper which you cut out and place on the front of the cabinet door. Paint the cabinet with the decal in place and when all is dry, simply remove the decal. You'll see some of that wood shining through in the shape of your design!

A Tidy Trim

Adding some pretty moulding to the door's perimeter could be all your cabinets need to sparkle anew. Make sure to measure the outer area to get the right-sized pieces. If you or someone in your family is handy with a miter saw, cut the mouldings to the right size, paint the cabinets and the moulding the same colour, and affix them with wood glue. Use clamps to keep them in place while the glue is drying.

Tile Is Tempting

Tile doesn't have to be relegated to a backsplash. Kitchen interior design can be anything your own tastes dictate. Once your cabinets are painted, you can actually tile the door panel just like you would any other surface. There is no need to grout, unless you want to, and the door is able to take the extra weight.
Leave a Comment
The comments are closed.