Best Kitchen and Bathroom Designs to Increase Rental Property Income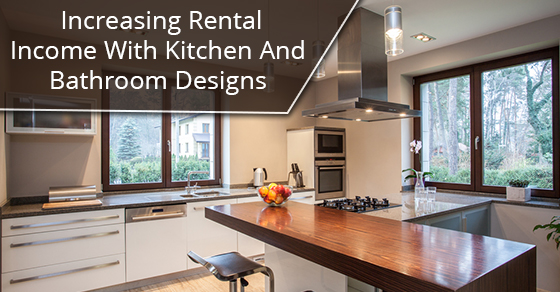 When investors put money into sprucing up a rental property, they will want to get the most bang for their buck. One of the ways to attract and keep potential tenants is by providing them with an updated and functional living space, without totally breaking the bank.
Here are some suggestions for updating the two most used rooms in a home or an apartment – the bathroom and the kitchen:
Remember it's a rental
Although you want the space to be appealing, it's not necessary to shell out as much money on a rental as you would on your own home. Unless the bathroom and kitchen need extensive repairs, a little cosmetic work may do the trick. It's amazing what a fresh coat of paint will do to perk up any space. Just remember to use a neutral shade that will go with any decor.
Put possible tenants in the picture
When it comes to kitchen and bathroom design, put yourself in the tenant's place. Would you be able to see yourself living in the home or apartment? If not, how could you change that? Renters want lovely spaces just as homeowners do. No one wants to live in a place with a dingy kitchen or moldy bathroom. If you wouldn't live there yourself, chances are no one else will either.
Replace where you can
Often in a bathroom or kitchen, there are things that can be replaced such as a broken tile or cleaning the carpets rather than replacing them. Giving the walls a thorough cleaning may be just as good as giving the place an entire paint job. Scuffs and marks can be cleaned these days using products on the market.
Think about the possible return on investment
By shelling out some money to update the kitchen and bathroom, you will likely recoup that should you decide to sell within five to 10 years down the road. You will at least want to replace old fixtures and perhaps update the hardware on any cabinets.
The sparkle matters
There is nothing worse than a dirty, grimy kitchen and bathroom. Cleaning doesn't cost an arm and leg and likely tenants will appreciate the effort and can relay the message that you're a landlord who cares. If you don't have the time to do it yourself, hire a professional cleaning service.
Leave a Comment
The comments are closed.