Six Simple and Easy DIY Home Renovation Tips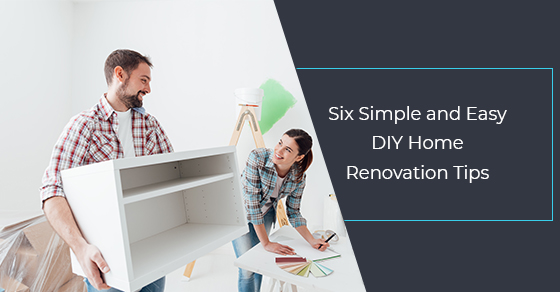 Let's face it; we all get into a funk sometimes and need a little change to lift our spirits. This usually comes in the form of "spring cleaning" or a complete wardrobe overhaul. If you like to spruce up your home from time to time, here are six clever and easy renovation tips for personalizing and improving your space without too much commitment.
Use decorative doorknobs

Many stores and online shops sell decorative doorknobs that can easily replace your old, boring knobs. These can be used for cabinets in the kitchen and bathroom as well and come in all shapes, sizes, and colours. If you're going for a more eclectic look, then you may even consider mixing and matching knobs.

Curate a gallery wall

If you're a photographer or illustrator, now is the time to let your best work shine. Even if you just like collecting photos, a gallery wall of pictures in different shapes and sizes can make a room more personal and intimate. Make sure to coordinate the frames, so they go well together. You might even add signs, maps, prints, and personal mementos. If a gallery isn't your thing, there are many other ways to upgrade blank walls such as using a new paint colour or accent mirrors.

Upgrade your bedroom headboard

When you enter your bedroom, one of the first things that you see is the headboard on your bed. It plays a significant role in the aesthetics of your bedroom, so if you don't have one already, why not make your own? This can be achieved by cutting a piece of plywood and painting it to your liking. If you prefer a tufted headboard, there are many tutorials online that guide you through the DIY process.

Caulk old spaces and cracks in the baseboards

Cracks in the baseboards of your home can make even the prettiest of spaces look unkempt. Re-caulking is important as it prevents insects from getting in and makes a big difference to the overall look of your home.

Replace light switch covers

Like doorknobs, light switch covers can also be replaced for a more detailed and decorative look. A good tip is to choose a colour or metal that accents the décor you already have. You'll be reminded of your fabulous taste and perfect colour coordination every time you turn on the light.

Create a DIY bulletin board in your home office

Do you practically live in your home office? For those of you that spend the majority of your time working from home and want a quick change, adding a bulletin board is both practical and cute. Make sure to cut your foam board to the exact size and shape that you desire. An X-Acto knife will help you get the precise shape for your space. Once completed, you'll have the perfect spot to display your notes, calendars, and to-do lists.
With these genius renovation tips, your home is sure to be an impressive space that you and your guests will appreciate. Most of these small renovations can be done within the day, giving you enough time to sit back in the evening and marvel at your work. After all, the best part is getting to relax and enjoy the space that you created for yourself and your family. If you would like more information on home renovations and upgrades that can be made to your home, please call Avonlea Renovations at (416) 907-4764 or contact us here.
Leave a Comment
The comments are closed.