How to Build a Realistic Timeline for your Renovation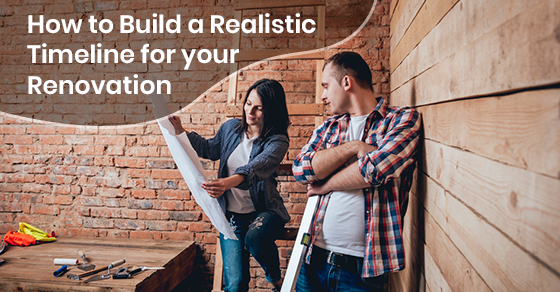 Renovations can take a long time and it's hard to determine a definite date of completion. It's important to create a plan and timeline for your renovation and have steps that will take you to where you want to get in a timely manner. Here are 7 tips to help ensure that your renovations stay on schedule.
Plan ahead

The project doesn't start right when demolition starts, although that is the most exciting part. The project should start weeks or even months beforehand. It's ideal to wait until all special orders arrive before demolishing. That way you have everything you need once you start tearing things down and you're not waiting for things to arrive. This will allow you to put everything together quickly.

Make a timeline

Plan a schedule of events with a timeline with your contractor and be transparent about what you want to be done and when. Ensure that there is a clear and concise timeline of when you want things done and if there is a specific timeline, event or other reason you need the project completed by a specific date, make sure they know in advance.

Get materials in advance

If you are a homeowner and are in charge of materials, make sure that they are available when your contractor needs them. This will save on a lot of time and will make sure that your project gets done quickly.

Anticipate delays

Home remodelling can be full of surprises, so try to plan ahead and anticipate them as best as you can. You should also bring up any concerns you have with your contractor.

Have concrete deadlines

Having a specific start and end date for your project is essential. Revise the end date if needed to accommodate change orders and extras.

Communicate clearly

Most important of all is to have clear communication with your contractor at all times. Keeping open communication is key to staying on target for completion, especially in the vetting phase. If you feel like the communication isn't there or they aren't responding to emails or phone calls, it may be best to move on to other choices.
There are three main factors that impact the result of a project: speed, quality and price. Choose two of these factors to prioritize rather than trying to focus on everything at once. Also, ensure that you find a professional home renovation service to help you with your project.
For more information about creating a timeline for your reservation, call Avonlea Renovations at (416)-907-4764 or contact us here.
Leave a Comment
The comments are closed.