Four Design Tips to Help Your Renovations Run Smoothly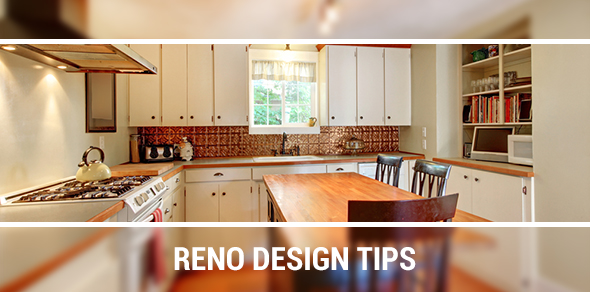 The kitchen is one of the key focal areas of the home. It's where we spend the most of our time outside the bedroom and living room. And it's one of the first areas potential buyers will go to when assessing the value of your home.
So when you do a kitchen renovation, you want it go to smoothly – without major complications. Remember, kitchen renovations, even if they're done right, will not be the cheapest reno to do. And that's ok, because they're one of the key value stores in our house – meaning that if done right they can add a lot of value to our house!
So make sure the renovation for your dream kitchen goes right. Much of the work here comes in the design and research stage. Do it the right way by following these helpful tips:
Make sure you're clear on the look and feel you want
For most people, they want a kitchen that just "feels" right. One way to think about this is that the kitchen suits not only your lifestyle when it comes to cooking, but also fits into and compliments the rest of your home.
Think hard about the other rooms in your house, and how each room feels as you walk from one to another. You're going to want style symmetry with the rest of your home – meaning that if you take one style in the other rooms, keep that style for your kitchen. Match modern with modern, and rustic with rustic.
Know what you want from your kitchen
Our kitchens have multiple functions – cooking, eating, hosting dinners, even having friends over for drinks. But not everyone wants their kitchen to do everything! Some cooks, for example, just want it to be finely tuned to help them make meals. Before you decide on the layout of your kitchen renovation, make sure you have the functional end result in mind.
Keep timelines in mind
Some people make the mistake of choosing a specific kitchen layout before thinking whether their appliances – fridge, stove, etc. – will fit within it. This can be especially problematic if you're making last-minute choices about what appliances and features (such as countertops) that you want. Put in an effort to make these choices before the design is finalized.
Set a budget and research prices
You should have a budget in mind before launching your kitchen renovation. But also make sure you have a full understanding of the material and appliance cost beforehand as well. If you don't have a good estimate of the cost for parts, you could face major disappointment when you inadvertently price yourself out of the kitchen that you want.
Leave a Comment
The comments are closed.