Most Common Renovation Mistakes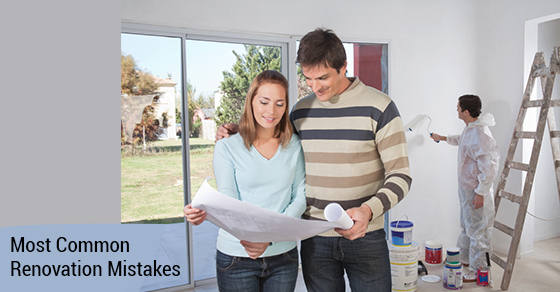 Renovating your home can increase its value on the market, enhance its visual appeal, and boost its versatility to accommodate your family's changing needs.
However, these benefits will only materialize if you steer clear of certain dream-crushing pitfalls. What follows is a rundown of the most common renovation mistakes and how to avoid them.
Pay Now or Pay Later
While that on-sale bundle of discounted 8-mm laminate flooring might seem like a great deal, you would arguably be better off buying thicker laminate flooring at a higher price point. This is particularly important if it will be used in a high-traffic area that needs to be resistant to wear and tear.
You don't have to abandon your thrifty ways when shopping for materials needed for your renovation project, but you should consider quality in addition to cost. You'll no doubt enjoy the end result more if you invest in quality materials that are within your budget, over the cheapest options available.
Don't put the Cart in Front of the Horse
If you're not careful, you can let the excitement of starting the renovation project get in the way of proper planning, which can spell disaster.
You need to plan how things are going to proceed. Buy whatever the materials and supplies required, order anything that isn't in stock while allowing for sufficient delivery time, and consider other factors that could impact the project.
Beware of the Jack of all Trades
Although there's nothing inherently wrong with enlisting the help of a jack of all trades, you need to be careful. Yes, you'll likely save money by hiring a friend or a family member with some DIY skills, but the lack of training or expertise could be on full display once the renovation project is completed.
It would be better to have the jack of all trade types help with more basic stuff like painting or flooring or possibly even tiling. Leave the major renovations to professionals who can offer you references from satisfied customers.
Don't Forget the Building Codes
While brainstorming the renovation process, don't overlook whatever building codes your city, town, or municipality has in place. If you're in doubt about what building code provisions might apply in your case, contact the relevant authorities so that you can avoid running afoul of the law.
Avoid Under-Budgeting
You can be fairly certain that your renovation project will cost at least a bit more than you'd like. That's why it's important to figure out a realistic budget and then add up to 20% more for unforeseen expenses likely to pop up at some point. If you do this, you're more likely than not to stay within your budget.
Home renovations can definitely be worthwhile if you go about them the right way. Just be sure to avoid the aforementioned mistakes that people tend to make and you'll increase the odds of a successful outcome.
Leave a Comment
The comments are closed.