8 Tips for Renovating your Old Home or Heritage Home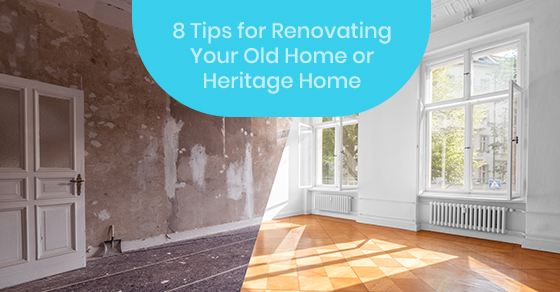 Restoring a heritage property is no small job! However, when done right, renovations can turn a nightmare into a dream home.
Below are some tips for renovating your old home.
1. Water damage is the enemy
Water damage is serious! Water damage can have long-term effects — like dry rot and bugs. During your reno project, keep an eye on the ceilings, floors, and windows for signs of water damage, as it could be a warning of serious structural issues.
2. Assemble a team to help you
Hiring a contractor and an inspector to help you get your home renovation done is a smart move. They can help estimate the amount of work that needs to be done and the cost. But it could be helpful to research people with experience in historic preservation—they will know exactly what restoration work needs to be done. You need talented people who can help you through the process of restoring an old home.
3. Start small
Renovating a heritage home can really suck your wallet dry. If you don't have unlimited funds, and you don't already own the house, look for a smaller house, which will be more manageable to restore.
4. Be smart about your investment
Even if you're not planning to sell, it's smart to consider resale value when budgeting. You don't want to invest in a house that won't yield an equal return. That said, you need to research what price fully renovated houses sell for in your area. This will help you decide how to structure your budget.
5. Start with the roof and windows
It's tempting to choose your new kitchen cabinets and paint swatches right away, but the first stages of the renovation should be the most important and most expensive areas. Fix anything that will stop any future damage from happening.
6. Asbestos
One of the most important things to focus on when renovating old or historic homes is that many still contain asbestos. When asbestos fibres are disturbed, they get released into the air. If these fibres are inhaled, they can get trapped in the lungs and cause serious health issues, including cancer.
Although asbestos isn't used in construction materials anymore, there are still many homes that contain asbestos. You must have this checked by a professional before any work can begin on your home. If asbestos is found, it must be removed before anything else can be done.
7. Wiring
Older homes have very few outlets. If there are two or three outlets in a room, there is a good chance that the old and new wiring is strung together. New plugs are often installed with new wiring to make it look like the wiring was replaced when it could be attached to an old knob inside the wall. If you find surface wiring, it's likely you have new wires patched into old.
8. Other problems in old homes
Rusting pipes
Rotting beams
Mould and termites
Water damage
Hazardous framing
Uninsulated walls and ductwork
Undermined foundations
Damaged exteriors, such as cracks in plaster.
To learn more about how to renovate your old or heritage home, call Avonlea Renovations at 416-422-5276 or contact us here.
Leave a Comment
The comments are closed.