5 Tips for Keeping Your Kitchen Organized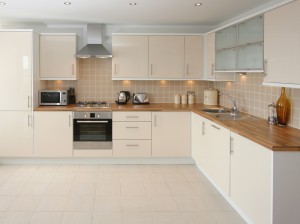 Pots and pans, cooking gadgets, canned goods and baking supplies: altogether, it may seem impossible to keep this jumble organized in your kitchen. What's more, the kitchen is usually a high-traffic room, where everything from the newspaper to receipts and loose change tend to pile up.
Here are some tips on keeping your kitchen organized:
1. Floor-to-ceiling cabinet ideas
If your kitchen has high ceilings, you can maximize your storage space by installing floor-to-ceiling cabinets for stowing away kitchen effects that you use less often. A custom-made library ladder sliding along a metal track is one solution when you need those hard-to-reach items.
That leaves lower cabinets closer to your kitchen's workspace free for everyday provisions.
2. Organizing under the sink
That area below the sink often becomes a no-man's land between the pipes. Special under-sink drawers can change all of that, says This Old House Magazine.
A tilting upper drawer is a great place to store items like scouring pads and sponges, which otherwise tend to wind up in the bacteria-ridden area behind the tap. A sliding drawer below is a great way to make your recycling or compost bin easy to access, along with cleaning products and other miscellany.
3. Pop-up shelves
Especially in a small kitchen, counter space is valuable real estate. Mixers or espresso makers that sit on the shelf sometimes monopolize the counter, but they're too heavy or awkward to stow away when you're not using them.
One solution recommended by This Old House is a pop-up shelf. The mixer or coffee maker dwells in your cabinet, and a "release mechanism allows you to gently push it back down when you're finished."
4. Slide corner shelving
One problem area for many kitchens is the corner cabinet. Items tucked away in this area are often difficult to access. One solution is slide corner shelving, which allows you easy access to everything from canned goods to your popcorn popper by pulling the contoured platforms from their hiding places.
5. Vertical dividers
For flat items like cookie trays and cutting boards, install vertical dividers to keep them upright and organized. A curved recess in the outer edge of the wood will make those items easy to grab, while adding a stylish touch to the design.
Avonlea Kitchen & Bathroom Concepts
1980 Danforth Ave
Toronto, ON M4C 1J6
(416) 907-4764
avonlearenovations.com
Leave a Comment
The comments are closed.